As a heavy user of Nautilus and Filebot, i decided to integrate the two.
Following on from my previous article on column providers for nautilus, here as the additional functionality for nautilus filebot integration.
Its a basic threaded extension; for the most basic and most used operation, "Strict file renaming".
It solves 95% of my usage scenarios. To find out how to use the code, see the article https://fio.ie/python-column-provider-nautilus/
Github: https://github.com/dmzoneill/filebot-nautilus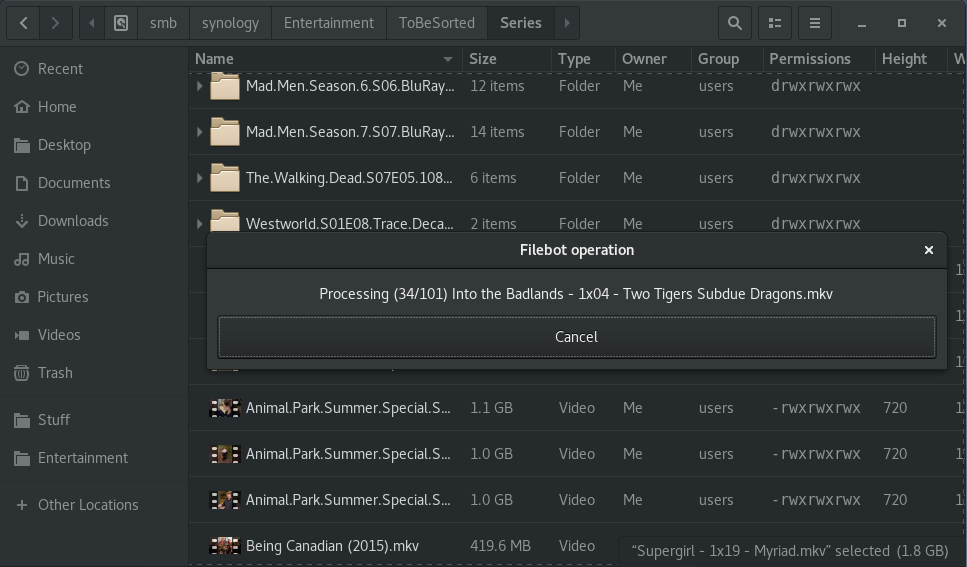 The code
1

2

3

4

5

6

7

8

9

10

11

12

13

14

15

16

17

18

19

20

21

22

23

24

25

26

27

28

29

30

31

32

33

34

35

36

37

38

39

40

41

42

43

44

45

46

47

48

49

50

51

52

53

54

55

56

57

58

59

60

61

62

63

64

65

66

67

68

69

70

71

72

73

74

75

76

77

78

79

80

81

82

83

84

85

86

87

88

89

90

91

92

93

94

95

96

97

98

99

100

101

102

103

104

105

106

107

108

109

110

111

112

113

114

115

116

117

118

119

120

121

122

123

124

125

126

127

128

129

130

131

132

133

134

135

136

137

138

139

140

141

142

143

144

145

146

147

148

149

150

151

152

153

154

155

156

157

158

159

160

161

162

163

164

165

166

167

168

169

170

171

172

173

174

175

176

177

178

179

180

181

182

183

184

185

186

187

188

189

190

191

192

193

194

195

196

197

198

199

200

201

202

203

204

205

206

207

208

209

210

211

212

213

214

215

216

217

218

219

220

221

222

223

224

225

226

227

228

229

230

gi

.

require_version

(

'Nautilus'

,

'3.0'

)

gi

.

require_version

(

'Gtk'

,

'3.0'

)

from

gi

.

repository

import

Nautilus

,

GObject

,

Gtk

,

Gdk

,

GLib

,

GdkPixbuf

from

hachoir_core

.

error

import

HachoirError

from

hachoir_core

.

stream

import

InputIOStream

from

hachoir_parser

import

guessParser

from

hachoir_metadata

import

extractMetadata

from

subprocess

import

Popen

,

PIPE

class

VideoMetadataExtension

(

GObject

.

GObject

,

Nautilus

.

ColumnProvider

,

Nautilus

.

MenuProvider

,

Nautilus

.

InfoProvider

)

:

logging

.

basicConfig

(

filename

=

'/tmp/VideoMetadataExtension.log'

,

level

=

logging

.

DEBUG

)

Nautilus

.

Column

(

name

=

"NautilusPython::video_width_columnn"

,

attribute

=

"video_width"

,

label

=

"Width"

,

description

=

"Video width"

)

,

Nautilus

.

Column

(

name

=

"NautilusPython::video_height_columnn"

,

attribute

=

"video_height"

,

label

=

"Height"

,

description

=

"Video height"

)

,

def

update_file_info_full

(

self

,

provider

,

handle

,

closure

,

file_info

)

:

filename

=

urllib

.

unquote

(

file_info

.

get_uri

(

)

[

7

:

]

)

file_info

.

add_string_attribute

(

'video_width'

,

video_width

)

file_info

.

add_string_attribute

(

'video_height'

,

video_height

)

file_info

.

add_string_attribute

(

'name_suggestion'

,

name_suggestion

)

if

file_info

.

get_uri_scheme

(

)

!

=

'file'

:

logging

.

debug

(

"Skipped: "

+

filename

)

return

Nautilus

.

OperationResult

.

COMPLETE

for

mime

in

self

.

videomimes

:

if

file_info

.

is_mime_type

(

mime

)

:

GObject

.

idle_add

(

self

.

get_video_metadata

,

provider

,

handle

,

closure

,

file_info

)

logging

.

debug

(

"in Progress: "

+

filename

)

return

Nautilus

.

OperationResult

.

IN_PROGRESS

logging

.

debug

(

"Skipped: "

+

filename

)

return

Nautilus

.

OperationResult

.

COMPLETE

def

get_file_items_full

(

self

,

provider

,

window

,

files

)

:

for

mime

in

self

.

videomimes

:

if

file

.

get_uri_scheme

(

)

==

'file'

and

file

.

is_mime_type

(

mime

)

:

top_menuitem

=

Nautilus

.

MenuItem

(

name

=

'NautilusPython::Filebot'

,

label

=

'Filebot'

,

tip

=

'Filebot renamer'

)

submenu

=

Nautilus

.

Menu

(

)

top_menuitem

.

set_submenu

(

submenu

)

filebot_tvdb_menuitem

=

Nautilus

.

MenuItem

(

name

=

'NautilusPython::FilebotRenameTVDB'

,

label

=

'Filebot TVDB'

,

tip

=

'Fetch names from TVDB'

)

filebot_tvdb_menuitem

.

connect

(

'activate'

,

self

.

filebot_activate_cb

,

files

,

'tvdb'

)

submenu

.

append_item

(

filebot_tvdb_menuitem

)

filebot_moviedb_menuitem

=

Nautilus

.

MenuItem

(

name

=

'NautilusPython::FilebotRenameMoviewDB'

,

label

=

'Filebot MovieDB'

,

tip

=

'Fetch names from MovieDB'

)

filebot_moviedb_menuitem

.

connect

(

'activate'

,

self

.

filebot_activate_cb

,

files

,

'moviedb'

)

submenu

.

append_item

(

filebot_moviedb_menuitem

)

def

filebot_activate_cb

(

self

,

menu

,

files

,

source

)

:

self

.

win

=

FileBotWindow

(

self

,

source

,

files

)

self

.

win

.

connect

(

"delete-event"

,

Gtk

.

main_quit

)

def

get_video_metadata

(

self

,

provider

,

handle

,

closure

,

file_info

)

:

filename

=

urllib

.

unquote

(

file_info

.

get_uri

(

)

[

7

:

]

)

filelike

=

open

(

filename

,

"rw+"

)

except

(

AttributeError

,

IOError

)

:

logging

.

debug

(

"Unabled to read: "

+

filename

)

Nautilus

.

info_provider_update_complete_invoke

(

closure

,

provider

,

handle

,

Nautilus

.

OperationResult

.

FAILED

)

stream

=

InputIOStream

(

filelike

,

None

,

tags

=

[

]

)

parser

=

guessParser

(

stream

)

logging

.

debug

(

"Unabled to determine parser: "

+

filename

)

Nautilus

.

info_provider_update_complete_invoke

(

closure

,

provider

,

handle

,

Nautilus

.

OperationResult

.

FAILED

)

metadata

=

extractMetadata

(

parser

)

logging

.

debug

(

"Unabled to extract metadata: "

+

filename

)

Nautilus

.

info_provider_update_complete_invoke

(

closure

,

provider

,

handle

,

Nautilus

.

OperationResult

.

FAILED

)

logging

.

debug

(

"Metadata None: "

+

filename

)

Nautilus

.

info_provider_update_complete_invoke

(

closure

,

provider

,

handle

,

Nautilus

.

OperationResult

.

FAILED

)

matchObj

=

re

.

search

(

r

'Image width: (.*?) pixels'

,

str

(

metadata

)

,

re

.

M

|

re

.

I

)

video_width

=

matchObj

.

group

(

1

)

matchObj

=

re

.

search

(

r

'Image height: (.*?) pixels'

,

str

(

metadata

)

,

re

.

M

|

re

.

I

)

video_height

=

matchObj

.

group

(

1

)

file_info

.

add_string_attribute

(

'video_width'

,

video_width

)

file_info

.

add_string_attribute

(

'video_height'

,

video_height

)

file_info

.

add_string_attribute

(

'name_suggestion'

,

name_suggestion

)

logging

.

debug

(

"Completed: "

+

filename

)

file_info

.

invalidate_extension_info

(

)

Nautilus

.

info_provider_update_complete_invoke

(

closure

,

provider

,

handle

,

Nautilus

.

OperationResult

.

COMPLETE

)

class

FileBotWindow

(

Gtk

.

Window

)

:

def

__init__

(

self

,

videoMetadataExtension

,

source

,

files

)

:

self

.

videoMetadataExtension

=

videoMetadataExtension

Gtk

.

Window

.

__init__

(

self

,

title

=

"Filebot operation"

)

self

.

set_size_request

(

200

,

100

)

self

.

set_border_width

(

10

)

self

.

set_type_hint

(

Gdk

.

WindowTypeHint

.

DIALOG

)

vbox

=

Gtk

.

Box

(

orientation

=

Gtk

.

Orientation

.

VERTICAL

,

spacing

=

6

)

self

.

working_label

=

Gtk

.

Label

(

label

=

"Working"

)

vbox

.

pack_start

(

self

.

working_label

,

True

,

True

,

0

)

self

.

button

=

Gtk

.

Button

(

label

=

"Cancel"

)

self

.

button

.

connect

(

"clicked"

,

self

.

on_button_clicked

)

vbox

.

pack_start

(

self

.

button

,

True

,

True

,

0

)

#GObject.timeout_add_seconds(1, self.process, files, source)

self

.

update

=

threading

.

Thread

(

target

=

self

.

process

)

self

.

update

.

setDaemon

(

True

)

if

file

.

get_uri_scheme

(

)

!

=

'file'

:

filename

=

urllib

.

unquote

(

file

.

get_uri

(

)

[

7

:

]

)

self

.

filebot_process

(

filename

)

def

on_button_clicked

(

self

,

widget

)

:

def

filebot_process

(

self

,

filename

)

:

self

.

processing

=

self

.

processing

+

1

text

=

"Processing ("

+

str

(

self

.

processing

)

+

"/"

+

str

(

self

.

todo

)

+

") "

+

os.path

.

basename

(

filename

)

GObject

.

idle_add

(

self

.

working_label

.

set_text

,

text

,

priority

=

GObject

.

PRIORITY_DEFAULT

)

p

=

Popen

(

[

'filebot'

,

'-rename'

,

filename

,

'--db'

,

self

.

source

]

,

stdin

=

PIPE

,

stdout

=

PIPE

,

stderr

=

PIPE

)

output

,

err

=

p

.

communicate

(

b

"input data that is passed to subprocess' stdin"

)

if

self

.

processing

==

self

.

todo

:

GObject

.

idle_add

(

self

.

close

,

priority

=

GObject

.

PRIORITY_DEFAULT

)